We love kids! Your children are an important part of the church. During the pandemic, we are intentionally creating content to engage your children.
Sunday Morning Children's Messages
At our livestream services on Sundays at 9 and 10:30 we always include a special children's message, often using wacky pre-recorded videos with kids of our church participating.
Check out our current Fruit of the Spirit series
Weekly Story Time
Join us for weekly story time! Every week we share new stories on YouTube that connect to Sunday's service. Grab your children's Bible and follow along! Videos are available anytime on YouTube OR contact us to be added to our Friday emails that include video links, coloring pages and games.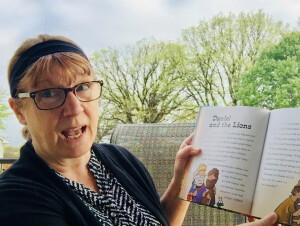 Virtual Vacation Bible School, August 3-7
"MIRACLES OF JESUS"
Join us, via video stream, as we learn about miracles that Jesus performed. There will be songs to sing, stories to be told, crafts to make. This will be fun for all involved!!!
Each family will pick up craft kit bags from Faith the week before VBS begins. Kits will have supplies for every craft for each child to make. More details about pick up will be sent out as we get closer to August. There is no cost for VBS.
Please register by June 30th.
Kids are Serving!
We invite children to color pictures, make art, or write cards to our homebound. Email to be added to the list of those who send mail to share God's love.
Safety
Faith seeks to provide a safe and secure environment for children who participate in programs and activities. All persons who desire to work with the children participating in our programs and activities will be screened.