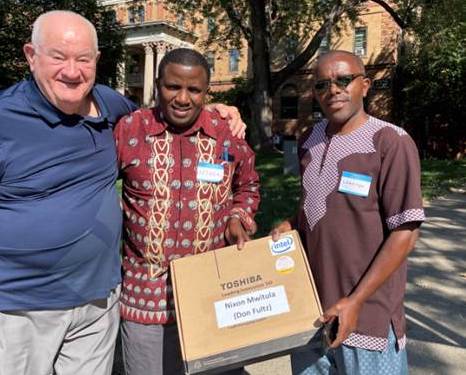 Greetings Faith! First off, THANK YOU for all of the computer donations.. please keep them coming! We will accept any laptop – Windows or Macbooks – and please remember power adapters. Desktops and Monitors also accepted. We have received many systems without labels – rest assured that any system with a hard drive is erased securely. In addition to individual requests for laptops, we've had two notable multi-system distributions recently:
In August, Affinity Plus Credit Union in association with Minnesota Computers for Schools (MCS) had a tech drive, with the promise to provide an additional laptop for every "usable" one that was donated. We met the specs needed for students, and donated 3 refurbished FLURB machines, so those 3 turned into 6 machines for Minnesota students!
In September, Pastor Don Fultz (former Faith pastor) reached out about 6 Luther Seminary students in need of computers… and we provided 6 refurbished systems for these students – pictures and a thank you are below.
To donate please contact Ted Lautzenheiser ( ) or Dan Neinstadt ( ).