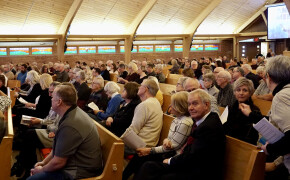 Faith Lutheran Church in Forest Lake has voted to approve working as partners with Settled, the Twin Cities homeless advocacy group. The church will be the first faith-based institution to explore creating a tiny house community called a "Sacred Settlement" on church property.
"We're so excited to take the first step in partnering with Settled on this visionary work of building a new kind of community for the homeless," says Pastor John Klawiter of Faith Lutheran Church. "The members of our congregation are deeply invested in the mission of the church, including the Scriptural command to care for the poor, and that starts with the people living in crisis in our own neighborhood. If we can use our resources—physical, emotional, and spiritual—to make crucial contributions in establishing Settled's first community site, we may light the way for other communities of faith to follow."
"This vote is just the beginning of a collaborative process," says Pastor Klawiter. "The intention is not to simply put tiny homes in a parking lot. We're creating a community with green space and intentional architectural elements that support a culture of permanence, safety, and hospitality."
Settled's Community-First approach to ending homelessness includes connecting residents with sustainable housing, purposeful work, and a supportive community. The Settled model solution relies on faith-based organizations for multiple resources: the zoning-exempt sites for its tiny houses, and the fellowship of church members willing to mentor and support the formerly homeless in forming a community.
"In the Faith Lutheran congregation, we're thrilled to have found a community willing to expand its borders and open its arms, welcoming and engaging with persons experiencing homelessness," says Settled co-founder Gabrielle Clowdus, a PhD candidate in housing and research fellow at the University of Minnesota Center for Design. "Central to our approach is providing a community where people can heal and form attachments—and that community must include both the housed and unhoused."
"While it's true that in Forest Lake we don't 'see' people living in tents, there are people from Forest Lake and Washington County who are homeless are hidden or are now living in other places," said Jennifer Tolzmann, member of Faith Lutheran Church. "In order to have better access to services, some people experiencing homelessness move away from their community of origin to inner cities. This new tiny house community will give us the power to invite them 'home'!"
"While more and more housing is being built in the metropolitan area, much of it is out of reach for those who need it most desperately," said Fran Miron, District 1 Washington County Commissioner. "Settled is addressing one of the most difficult issues of our time. Washington County is ready to partner in this work in any way we can to move these initiatives forward."
Residents of the proposed Faith Lutheran Settlement will have a connection to Washington County. The partnership will work closely with County Community Services, local social workers, veterans' organizations, and the Forest Lake Police Department to identify individuals or couples that would be a good fit for the community.
Settled is led by co-founders Gabrielle Clowdus and Anne Franz, as well as a team of social workers, social scientists, business strategists, product developers, counselors, pastors, homemakers and home-builders. Settled's use of church property reduces or eliminates the cost of land to enable development, and is protected under a federal land use law.
The nonprofit developed a tiny home model within a "Sacred Settlement," offering residents private space within a community — but sharing kitchen and dining spaces, bathrooms, laundry, gardens, workshops and gathering areas. The Settlement land is managed by a religious organization to maintain standards for safety and welfare. Critical to the success of the program is the presence of community advocates and specially-trained volunteer neighbors — missionals — who live alongside the formerly unhoused to ensure a thriving settlement.
Settled is a collective relentlessly pursuing home with the homeless through sustainable housing, purposeful work and supportive community. The group's Community First approach provides affordable housing options by holistically meeting relational and social needs. By partnering with faith communities to develop and manage settlements on religious land, Settled creates communities that thrive, provides dignified work opportunities, and equips volunteers to help people coming out of homelessness meet their own personal goals. For more information, and to volunteer and donate, visit besettled.org.